[ad_1]

Editor's Note: Gartner just released the 2022 Magic Quadrant for Content Marketing Platforms, where Welcome was once again named a Leader, positioned furthest to the right and highest among all vendors for the 5th consecutive year! Read on to learn what this means for Welcome, now as part of the Optimizely family, directly from Welcome CEO Shafqat Islam. 
---
I'm really lucky that this is the 5th year in a row I can write a blog post like this.
When we first became the leader in the Gartner MQ for CMPs in 2018, my initial thought was 'Great, nowhere to go but down!' But as it turns out, we've continued to improve every single year, and are again—now for the 5th year in a row!—positioned highest among all vendors for 'Ability to Execute' and furthest to the right for 'Completeness of Vision'.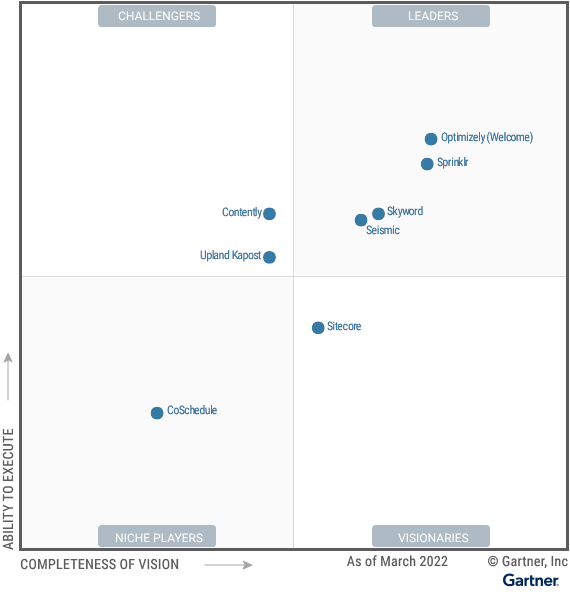 I consider myself lucky to work with an incredible team of passionate engineers, designers and product managers who obsess over customers and create beautiful products. But there is something extra special about this year and I wanted to share my thoughts with our customers and marketing community.
As most of you know, Welcome found its home at Optimizely in December. 
As a founder, it was non-negotiable that we did everything humanly possible to keep product innovation and customer obsession at the forefront post-acquisition. Kudos to Alex, Optimizely's CEO (and my first boss in over a decade!), for keeping Welcome as a standalone business unit so we could maintain the "secret sauce" of being a startup and move with speed. At the same time, we have the resources and scale of what is truly one of the best kept secrets in SaaS (this company is a juggernaut, with some of the best metrics I've ever seen).
Here's what Welcome accomplished in the last 12 months:
AI-Generated Content. We launched two AI capabilities into our product. Not roadmap, but in the live product. 1) AI based tagging and 2) Generative AI to actually help marketers create content (titles, paragraphs of text, outlines and more). We are the only company in the category to have generative AI.
A 'made-for-marketing' DAM. We launched a completely overhauled digital asset manager – filled with awesome features like file conversions, auto cropping, AI tagging, collections and more.
Proofing for all content types. We launched advanced proofing capabilities, including live website proofing and video proofing/annotation.
An all-new planning experience. We reimagined the Welcome planning module, with beautiful calendars, 'spreadsheet-like' tables, and advanced project management capabilities (like task dependencies), giving teams the ability to visualize their marketing activity in any way.
Robust integrations. We built bi-directional connectors with dozens of tools, including all the Adobe Creative Cloud products and enterprise tools like JIRA and Veeva.
Performance. We made most of our product twice as fast. Vroom vroom.
(Side note: for more details on the capabilities that led to Welcome's 5x Leadership recognition, check out this article). 
As we know, in software markets, you're only hot as long as you can keep shipping. 🙂 So, let's take a look at what we've got cooking. Specifically, I'm excited about all the ways we can integrate and create magic with existing Optimizely products.
Here's what's on our joint product roadmap:
Content anytime, anywhere. We're doing some amazing work in structured content authoring and publishing. Soon, you'll be able to publish any sort of page with structured content to almost any CMS, with a click of a button. Import templates? No problem. Give marketers to preview before publishing? No problem either. When you couple this with all the upstream planning and collaboration we already have, I think this will be game changing in the CMS world…
The world's best DAM. We are making our DAM even hotter. With one of the most advanced integrated DAMs in the market, we continue to innovate so customers can use us as a traditional DAM if they chose (although it does make us a little sad not to take advantage of our upstream and downstream workflows). We'll be launching customizable templates, video editing, ability to handle 3D files and more. Also, our DAM is already integrated with the Optimizely CMS.
Smart(er) Content. Remember the generative AI I mentioned earlier? Well, imagine if we could auto-create content, headlines, pick images (etc.) and send it all to Optimizely experimentation? We'll soon be enabling marketers to manage experiment ideas, provide experiment calendars and visibility, and ultimately workflow and launch experiments. We think we can build an incredible culture of experimentation and increase experiment velocity — helping businesses be scientific, not just data-driven.
There are just some of the exciting things we've launched and will launch.
But our company is more than just our product.
I believe we have the best software team in the industry — the pace, the innovation and the customer empathy is inspiring, and I am grateful that I get to work for them every single day. Our CS team will always put customers above the needs of our company, and for that I am grateful.
Most importantly, we have a kick-ass customer community. Our customers love us — which means singing our praises when we do well, but holding us accountable when me make mistakes. Their feedback is a gift, and their trust is a privilege. Thank you to all of you for your ongoing support over the last 5+ years.
Let's run it back a 6th time! See you in a year.
Peace,
Shafqat
[ad_2]

Source link