This is part of a series of Q&A interviews with Detroit nonprofit directors connected to our Resilient Neighborhoods series. Lisa Johanon is the founder and interim director of Central Detroit Christian, which provides a wide-range of services to an area in central Detroit that includes parts of the city's North End, Piety Hill, Virginia Park, and Boston Edison neighborhoods.
Model D: To start with, could you tell us a little about Central Detroit Christian?. 
Lisa Johanon: We're going to be 28 years old this year. Were committed to the Central Detroit neighborhood which encompasses 48202 and 28206. And we have a very holistic approach to how we approach community development. We have an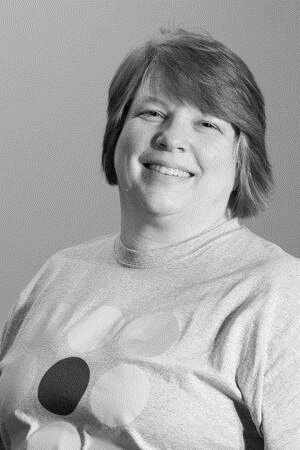 Lisa Johanon employment training focus. We have housing counseling services and an incredible array of [other people-oriented programming]. And then our brick-and-mortar work includes real estate business and business development. 
Model D: Let's talk a little about your business incubation efforts. What can you tell us about that?
LJ: From a macro perspective, Central Detroit Christian has developed 17 different businesses, seven of which are still under our umbrella. Last year was the first year that every business broke even or had a profit. So that's  pretty incredible. I've always  said, "You've got to be in it for the long game in social entrepreneurship," especially when you're trying to set up development in a low-income community. So it's been ten years before Peaches & Greens saw profitability and most people give up and say, "Oh, it's not going to work." If we had that attitude everyone one of our businesses would be closed. But we were fortuitous in terms of being able to be profitable last year. I'm so grateful for that.
Our approach has been that we provide amenities, so that whatever business we're starting is something valuable that the community needs and has asked for. Starting last year, we [decided] we had developed enough businesses under CDC's umbrella. I've got ideas percolating all the time, but we have focused more on trying to help people in the community with their businesses. So there's two businesses that I'm focused on now in a very intense way. One is helping a couple in our community open a coffee shop [called The Mug] and then another is a catering business with Mexican Food [called JT's Kitchen]. So those two they get a lot of my attention, but then there's other businesses. Surprisingly, when I did my report for New Economy Initiative (NEI) last month, I realized that we provide tenancy space for 15 different businesses.Anything ranging from a couple of different artists, to the two that I mentioned that are coming online, to our own businesses, to a medical clinic, to a black male educator group. So it is very much part of our DNA and our culture, doing this and being committed to entrepreneurs. 
Model D: How did CDC get started doing business development?
LJ: It was probably 20 years ago, at least. I had a fellowship in social entrepreneurship, the whole concept was just coming around. A lot of the buzz was: "Here's a different way to fund your organization." And that turned out to be a joke. But there were progressive things happening on the West Coast and on the East Coast. I was able to visit both. In San Francisco there was a foundation, the Roberts Enterprise Development Fund. They were funding 10 nonprofits to develop businesses. And I studied at Ben & Jerry's ice cream shop on the East Coast. And there was a New Community Corporation in New Jersey, one of the largest in the nation.They own a grocery store. That's entrepreneurism. 
I wanted to study franchises. We had done Savior Camp with teens where we collected the redeemable ten cent bottles. Very innovative, but it never could generate a profit. I came back from this and decided to start an ice cream store. It was Tastee Freez. We decided to go with an ice cream shop, instead of a full-service menu, because it was going to be less challenging for [teens there] to memorize an ice cream menu. We did pretty darn good. We were only a block from Northern High School. Then three years into it, Northern High School closes. Well there's 80 percent of our population. 
So at that point we said, "We can do better than this." And there was a corn beef shop in the neighborhood that was in bankruptcy, Mr. Fofos. We were able to buy his building for a very modest price, and we took over his business. We were doing great business. We were able to employ more people than we thought. We started to learn that the typical person coming in for a corned beef sandwich was a Black man over the age of 50 that said, "If my doctor knew I was here, he would kill me." And I'm going, "OK, That's not good." Especially, because at that same time we opened Peaches & Greens produce market. So we closed down the corn beef restaurant, even though it was in the six digits in terms of finances, and changed it over to a healthy soul food restaurant where there was no salt added to any of the foods.
Model D: What can you tell me about your process for handling business development?
LJ: Our process [involves] working with people and having community meetings and engaging our community and seeing what does our community need again.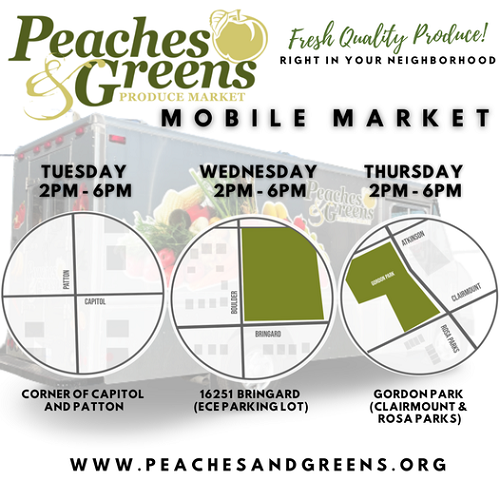 Peaches & Greens flier Doing a laundromat was one of the number one things.There were two buildings that had 175 units right next to the laundromat, and they didn't have any laundry facilities. so it became a boon for them. They were so grateful. HUD closed those two buildings down. They were officially closed two weeks ago. Now we've got to change our model. We knew that it was coming, so believe it or not, we picked up a couple contracts from Airbnbs. So we're still there for the community, but we can pay our bills from another source. 
Right now, we're changing our paradigm for Peaches & Greens, because Malik Yakini is going to break ground this month on a food co-op at Euclid and Woodward. It's going to be a fun place to shop, but potentially has the possibility of putting Peaches & Greens out of business. So during COVID, what we learned is people like delivery of groceries, so we became one of those groups. We delivered groceries to people, and if you were a senior citizen or you lived in a four mile radius, your grocery delivery was free as long as it was over 15 dollars in purchase. It flew off. it flew off the rails. And we also realized during COVID, the health disparities that were exposed and brought to light. You have to reinvent yourself sometimes.
But the goal, when we first started out was: how can we create jobs for people in our community? Because, the biggest deterrent to people holding and keeping a job was lack of transportation. So one of the best ways to do it is to create businesses in your community, while making sure the businesses serve the community.
 
Model D: Any other businesses under your umbrella you wanted to let people know about?
LJ: City Kids Soup is our youth business and they package healthy soups that only have ten milligrams of sodium in them. They sell off the shelves and we're able to be at Eastern Market, but we need other venues and outlets for the sale of that soup year round. [Then there's] Pathways to Promise Preschool. We made a profit last year, and we're at full capacity now. Our property management has really grown. We're managing 250 units of housing right now. We have our own construction company. And in this time of construction costs being so elevated, it's really helped keep our costs down. Plus, we can employ people from our neighborhood.
Model D: Any lessons you want to share with others who might be interested in doing this kind of work?
LJ: You have to really stick with it. You can not give up. What I tell any entrepreneurs who visit me is: "There's a lot of haters out there who say, 'You can't do it' or 'It's just too this and that.'" And it is costly and it does take a huge time investment. But, if that's your vision, work it and make it happen and prove all those people wrong.
This interview has been edited for length and clarity.
Resilient Neighborhoods is a reporting and engagement series that examines how Detroit residents and community development organizations are working together to strengthen local neighborhoods. It's made possible with funding from the Kresge Foundation.